TRANSFORMING AN OLD BATH TO A LUXURIOUS SPA RETREAT!
Prepare to be inspired by the remarkable journey of a homeowner who turned their primary bathroom from a source of frustration into a space of utmost fulfillment.  Amidst the challenging backdrop of the Covid pandemic, these resilient homeowners purchased a house burdened with a practically unworkable bathroom.  They sought my guidance to find a solution while staying within budget.
AFTER-Transforming frustration into fulfillment while working with a tight budget.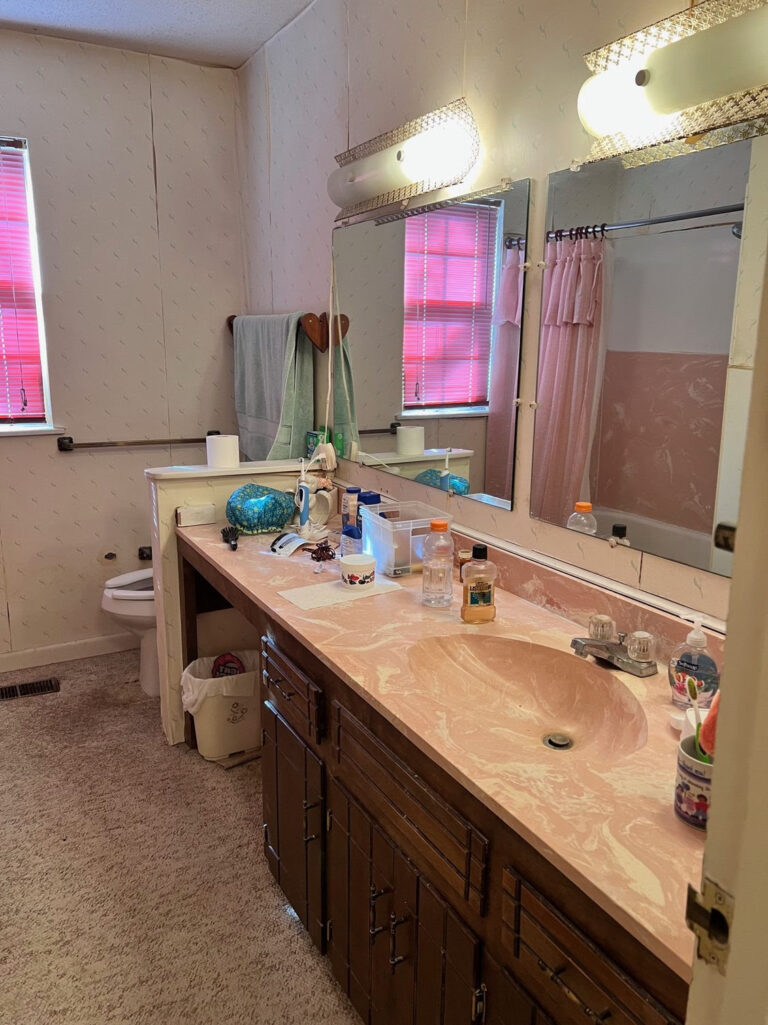 BEFORE!  As you can see this outdated and very low vanity was in dire need of an update.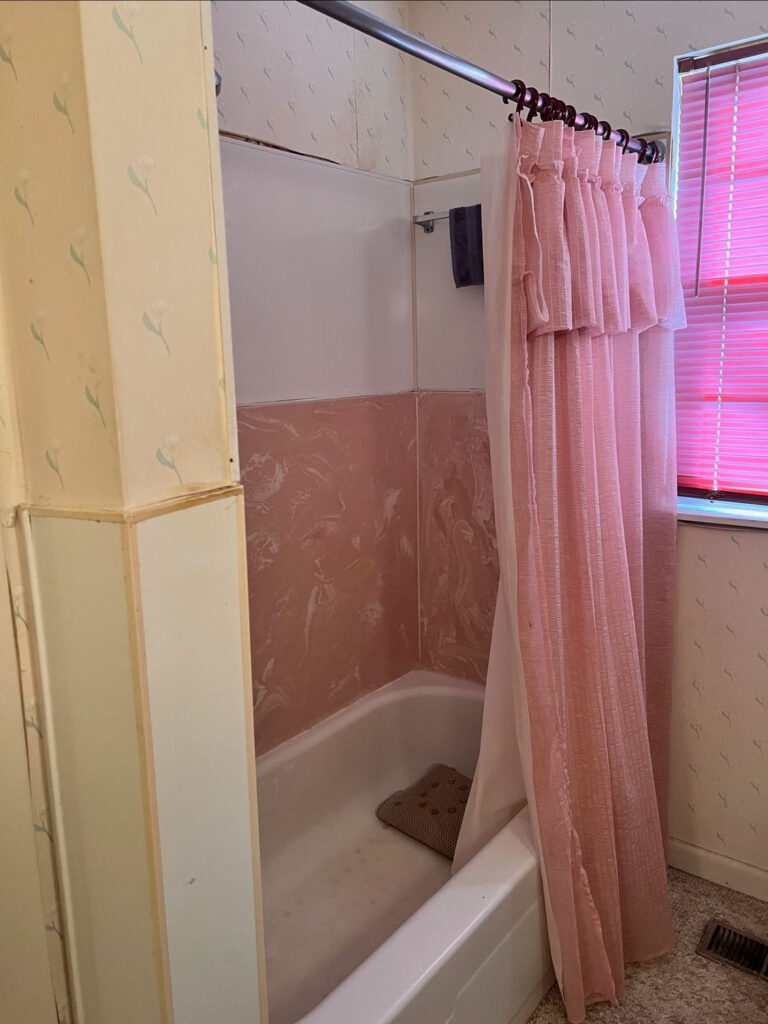 BEFORE -This shower was almost a non-functional shower with a dangerous tub for getting in and out.
AFTER:  The homeowner can enjoy luxurious shower experiences with our low-threshold shower featuring bench seating.  Designed for both seated and standing showering, it includes a convenient handheld shower for flexible use and a refreshing rainhead shower.
With the expertise of my skilled craftsmen, we set out to make their dreams a reality.  The first step was clear: a complete removal and demolition, leaving only the closet intact to contain costs.  Despite the limitations, we revitalized the space without relocating any plumbing.
Together, we carefully curated a design encompassing a prefabricated cabinet featuring two elegant sinks complemented by cultured marble countertops.  A shower base with walls adorned with a bench replaced the outdated hazardous bathtub.  Underneath the obsolete carpet, a surprise awaited—an impeccable base for installing luxurious vinyl plank flooring.
Bid farewell to the old and usher in the new—the vanity and shower received a magnificent upgrade with gleaming Delta faucets, replacing their outdated counterparts.  Recessed LED lighting was tastefully integrated into the ceiling to elevate the ambiance, accompanied by sophisticated light fixtures gracing the newly installed medicine cabinets.  The worn-out wallpaper was swiftly removed, making way for serene turquoise blue walls painted in Sherwin Williams' SW 6218 Tradewind, infusing a sense of tranquility.
The transformation unfolded before their eyes, bestowing the homeowners with a spa-like sanctuary that surpassed their wildest expectations.  Not just a mere bathroom but a space designed to accommodate the graceful aging of its occupants.
Are you in need of a bathroom update?  Afraid a designer will waste your money?
Updating your bathroom doesn't have to break the bank.  
Working with a designer can provide with valuable insights, cost-effective solutions and a strategic approach to design.  Buy leveraging my expertise, you can make informed decisions, avoid costly mistakes and ultimately achieve the best return on your investment.
Give me a Call!
P.S.  Be sure to watch my video each Tuesday Noon via Facebook and Instagram for tips to keep your house from looking cheap!

I hope these tips help you, but if you need help, call me at 870-847-0286. My showroom at 717 Ash Flat Drive, Ash Flat, AR, is open only by appointment, but it houses thousands of fabrics just waiting to become the pillow of your dreams.


XOXO,
Lori