As the leaves change and the air turns crisp, it's time to welcome the cozy and enchanting fall season into your home. With its warm hues, rustic charm, and a touch of nature's elegance, Fall provides the perfect inspiration for decorating your living space. Whether you want to create a welcoming atmosphere for guests or enjoy the season's magic alone, here are some creative fall decor ideas for your dining tables, buffets, fireplace, front door, and entry gate.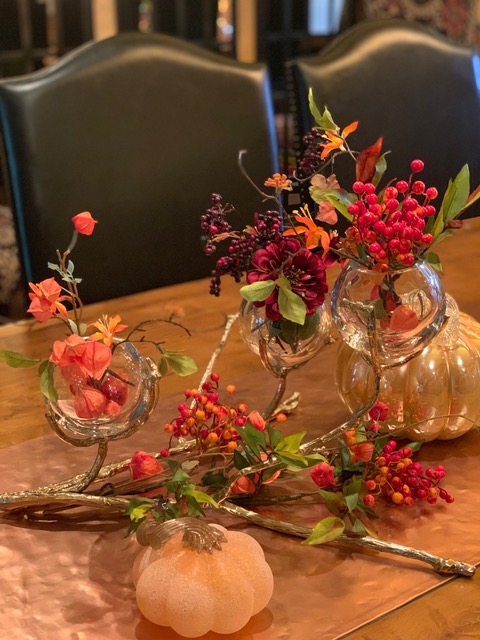 Dining Tables: A Feast for the Senses

Your dining table is the heart of your home during Fall, as it brings family and friends together for hearty meals and memorable conversations. Here are some ideas to adorn your dining table with the essence of autumn: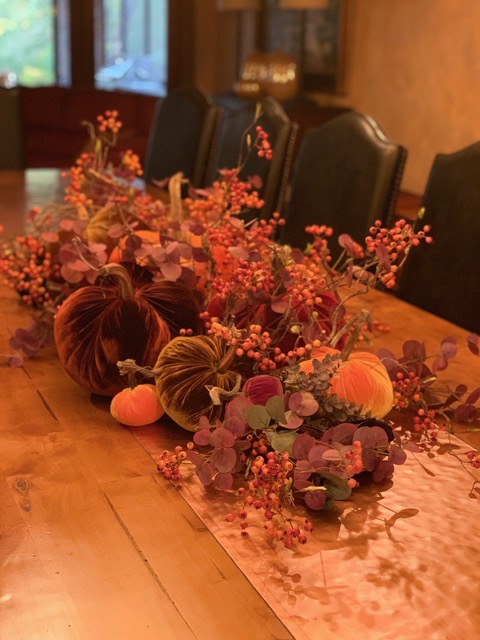 Rustic Centerpiece

: Start with a natural, wooden table runner or placemats. Arrange a mix of faux pumpkins, gourds, and pinecones in a decorative bowl or on a tray. Add some pillar candles in earthy tones for a warm and inviting glow.
Seasonal Tableware

: Invest in autumn-themed plates, napkins, and tableware. Deep burgundy, forest green, burnt orange, and rich browns complement the fall color palette.
Buffets: A Display of Abundance
Buffets and sideboards offer the perfect canvas to showcase your fall decor creativity. Here's how to turn these functional pieces into eye-catching displays: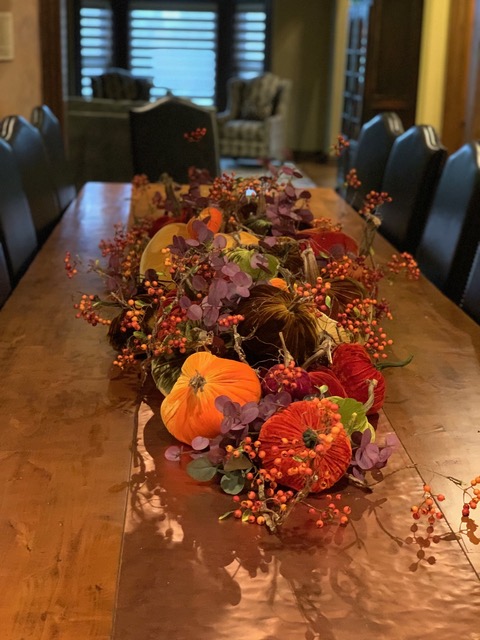 Pumpkin Lantern with ceramic turkey and faux greenery will make an unexpected element to a buffet. 

Tray with a mix of Fall fruits, a combination of faux garland, or real leaves to a one-time display. 
Fireplace: The Heart of Warmth
Your fireplace is the focal point of your living room, and it's a beautiful place to infuse some autumn magic:
Mantel Decor

: Adorn your fireplace mantel with garlands of fall leaves, pinecones, and acorns. Add a large mirror or a framed autumn-themed artwork above the mantel for a striking effect.

Side-tables and coffee decor:

  A simple tray with foliage and pumpkins makes an eye-catching centerpiece. Or just a simple single pumpkin makes the whole house feel decorated.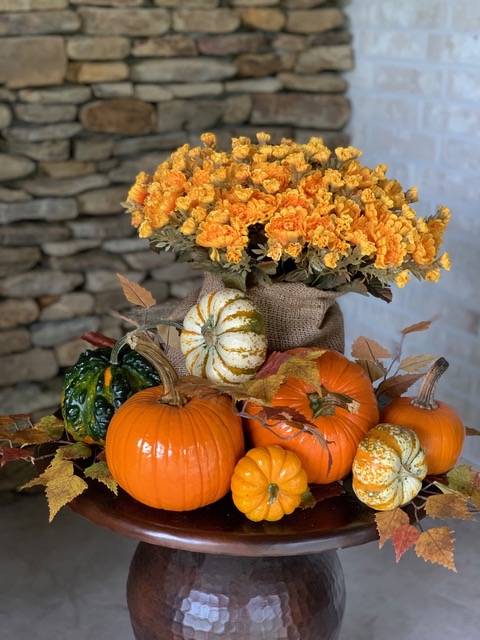 Seasonal Throws and Pillows:
Place cozy throws and decorative pillows in rich fall colors on your couch and chairs. They not only add warmth but also provide a touch of luxury.
Front Door: A Grand Entrance
Welcome your guests with an inviting fall-themed front door display:
Wreaths

: On your front door, hang a vibrant fall wreath featuring elements like dried leaves, twigs, and faux berries.
Potted Mums

: Place potted chrysanthemums on either side of your door, and your preserved pumpkins offer an inviting touch to welcome your guests.
Doormat

: Swap out your regular doormat for one that features a fall design or message, such as "Welcome Fall" or "Harvest Blessings."
Entry Gate: Setting the Tone
If you have an entry gate or fence, extend your fall decor theme to the outdoors:
Garland and Twinkling Lights

: Drape fall garlands along your entry gate and add twinkling string lights to create an enchanting entryway.

Scarecrows and Pumpkins

: Position scarecrows, hay bales, and clusters of pumpkins and gourds near your entry gate for a whimsical touch.

Lanterns or Pathway Lights

: Illuminate the pathway to your entry gate with lanterns with faux flickering candles or pathway solar lights.
Let your home embrace the season's warmth, beauty, and enchantment this Fall. With these creative decor ideas for your dining tables, buffets, fireplace, front door, and entry gate, you can transform your living space into a cozy autumn haven that welcomes family and nature's splendor. 
Happy Decorating!
Lori